RENEGADES: The Unconditional Unionists of Civil War Texas
They included former governors, judges and Texas Rangers. Many were rugged individuals from the Texas frontier — crack shots and expert horsemen. Most had no use for slaves and little regard for slavers. Above all was their loyalty to their nation. They risked everything in the face of intimidation and violence. Some died by hanging or were shot down in cold blood. Others escaped to Mexico, made their way to New Orleans and enlisted in the First Texas Union Cavalry, whose relics the State later discarded and whose history it disregarded. RENEGADES weaves the powerful stories of the real Texas rebels, the men who steadfastly remained loyal to the Union and refused to commit treason. With the war's end, these Union men returned home, refused to pursue retribution, suffered at the hands of murderers during Reconstruction and helped to rebuild Texas and lay the foundation for its future.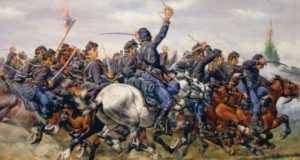 ______________________________________________________________________________________
SAVING LIVES IN THE GREAT WAR:
Ambulance Drivers and Nurses 1917-1918
extensively researched as part of my World War One effort and already a well received part of my speaking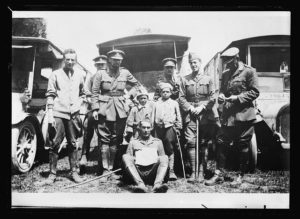 ______________________________________________________________________________________
THE BUFFALO SOLDIERS
OF FORT SNELLING NATIONAL CEMETERY
______________________________________________________________________________________
25th Cavalry Reconnaissance Squadron was the tip of the spear. They led the way for 4th Armored Division, often closely followed by the lead elements of Lt. Colonel Creighton Abrams' 37th Tank Battalion. 4th Armored Division was in the advance of General George S. Patton's Third Army in:
1) the breakout from the Normandy Beachhead in July 1944
2) the taking of Nantes to cut off the Brittany Peninsula on August 12, 1944
3) the thrilling dash across France, north of the Loire River to the Moselle River by mid-September 1944
4) the colossal tank battles in and around Arracourt in the Lorraine, September 18-29, 1944
5) the drive to the northeast, crossing the Saar River and taking Singling & Bining by December 8, 1944
6) the celebrated drive to relieve the embattled Americans at Bastogne in the Bulge, December 18-26, 1944
7) the fierce fighting to re-take the Bulge through most of January 1945
8) the push into Germany and the offensive that helped to end the war on May 8, 1945
Captain Chuck Hendrix commanded E Troop, 25th Cav Recon, the 75mm Howitzer Motor Carriage (HMC) M8s, self-propelled howitzers. E Troop provided close support for the M8 armored cars, the Greyhounds.
The basis of COMBAT will be decades of interviews and discussions with Chuck Hendrix (Ret., Colonel).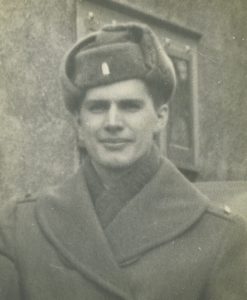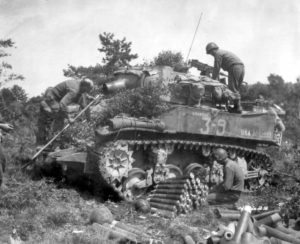 There is one great thing that you men will all be able to say after this war is over and you are home once again. You may be thankful that twenty years from now when you are sitting by the fireplace with your grandson on your knee and he asks you what you did in the great World War II, you WON'T have to cough, shift him to the other knee and say, 'Well, your Granddaddy shoveled shit in Louisiana.' No, Sir, you can look him straight in the eye and say, 'Son, your Granddaddy rode with the Great Third Army and a Son-of-a- ***damned-bitch named Georgie Patton!'   –   GENERAL GEORGE S. PATTON
________________________________________________________________________________________
SKOBELEV: The god of War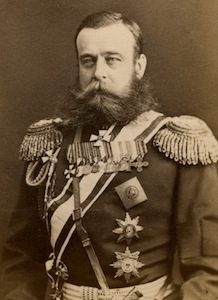 Mikhail Dmitrievich Skobelev (1843 – 1882) was one of the most acclaimed generals of his era and an international figure in nineteenth century geopolitics. Skobelev was aristocratic and arrogant, but he was also a brilliant tactician and a charismatic leader of men. His soldiers adored him and his immense popularity gave the czar great concern.
Skobelev played an important role in the Russian conquest of Central Asia and was the hero of the Russo- Turkish War of 1877-78. His pro-Slavic speeches in Paris and in Moscow at the beginning of 1882 received international attention and generated a great deal of excitement and concern. His militant appeal for Russia to go to the aid of the Slavs in the Balkans might have initiated World War I thirty years earlier. He died just months later – at the age of thirty-eight – under mysterious circumstances. It is not clear who had greater motivation to assassinate Skobelev: Bismarck, the German Chancellor, or Alexander III, Czar of Russia. One of the great what-ifs of history considers how Skobelev's presence might have averted Russia's humiliating defeats in the Russo-Japanese War (1904-1905) and in World War I (1914-1917) and perhaps even the subsequent Russian Revolution.
The book traces my travel adventures and friendships throughout Europe and Asia as I follow Skobelev's military career. It is part travel memoir, part historical biography and part military history. I weave Skobelev's own writings and speeches, the observations of his friends and comrades-in-arms and his military tactics and exploits into my narration. My experiences included maneuvering through Russian bureaucratic procedures, dealing with volatile Turkmen and Iranians, walking the off-limits battlefield at Geok Tepe, accessing the restricted Russian military archives, retrieving information from Russian libraries and newspaper archives and discussing Skobelev's impact and his legacy with modern-day Russian officers.
---
HOLOCAUST HEROINE: My Story of Ona Šimaitė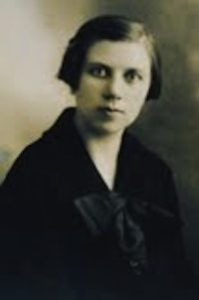 This has been a project for decades. Šimaitė surfaced from initial research at Hoover Institution on the Stanford University campus for my book Lithuania, The Nation That Would Be Free. That led to personal adventures and explorations in Lithuania and Moscow, but also beyond to Paris and to Israel. I interviewed Holocaust survivors and Lithuanian émigrés in New York City and throughout the United States. I dug into primary source materials in archives in Lithuania, Russia and Germany and in such unlikely places as Kent State University in Ohio. I was able to develop personal relationships with several key people who knew well this remarkable woman. These included those who lived and worked with Šimaitė in Vilnius, a Jewish woman who witnessed and experienced Šimaitė's kindness in the ghetto, and a woman whom Šimaitė managed to spirit from the ghetto and the man who cared for Šimaitė in her final years. I also met with Holocaust scholars, Lithuanian diplomats and KGB officers.
Forces beyond your control can take away everything you possess except one thing,
your freedom to choose how you will respond to the situation  –  Viktor Frankl                                                                                                                                  
Holocaust Heroine is near completion, having been completely re-written from its scholarly version to a much more engaging narrative nonfiction form that includes my own experiences and emotions as I evolve in my understanding of that place and time and about altruism.
photo of the Old Jewish Quarter of Vilnius by Stephen Chicoine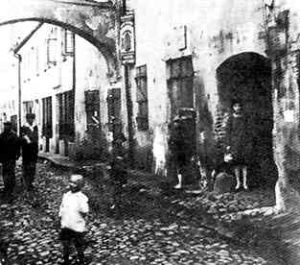 photo of the Old Jewish Quarter
from the archives of Hoover Institution
at Stanford University
(public domain)
---
CANADIENS: A Narrative Nonfiction History of My Ancestors
in the Founding of Quebec City and Montreal and the Early Settlement of North America
This book will be the end-result of many years traveling in Quebec province and studying in-depth the French era (1534 – 1760). The basis of this will be volumes of research done for my very first manuscript, a revisionist history of the French Era in Canada. My work was well received in publishing circles in the beginning of the 1990s … and widely circulated … as a complete manuscript. I even had a literary agent for a time – without almost no effort. My work was never published. At least one  derivative appeared later in print. I scrambled and found a good story during my travels in Lithuania and published my first book in 1995. I will re-write the original guide to the history of Montreal as narrative nonfiction.
My direct ancestors were present at the founding of Quebec in 1608 and the founding of Montreal in 1642. I am descended from Louis Hebert, the first farmer of Canada and a close friend of Samuel Champlain, and Gilbert Barbier, the carpenter who built the initial structures on the island on Montreal. A long list of Files du Roi are ancestors. My ancestors traveled with Father Allouez and Nicole and others to present-day Green Bay and Bayfield, Wisconsin. A number of my direct ancestors were professional soldiers in the Carginan-Salieres Regiment, veterans of war with the Turks in Eastern Europe, sent to Canada to fight the Iroquois and later settled in the Richelieu Valley for that same reason. There are many stories of fights of my ancestors fighting the Iroquois and the English colonials. I am a direct descendant of a member of the Kiskakon Ottawa, the Bear clan, who married a French woman at Batiscan in 1710. The third Chicoine in my lineage, Pierre III, accompanied Pierre La Verendrye on his exploration west in 1742-1743. They wintered with the Mandan on the Missouri River and were the first white men to see the Rocky Mountains. A number of my ancestors were voyageurs, the most famous being Gabriel Allard in the 1730s through the 1750s. Ancestor Pierre Lajeunesse joined the American invasion in 1775 (his brother advised Ben Franklin) and was put on trial after the Americans departed for his role in helping imprisoned American soldiers escape Quebec City.
---